The Hamptons area is known for its many beautiful luxury homes. Some Sag Harbor luxury homes have been built in recent years, but many of the area's best homes have a rich history and a story to tell. This article will describe seven of the Hamptons' most notable historic homes in detail. You'll find this information interesting whether you're shopping for Bridgehampton real estate or if you're simply a fan of classic architecture or design.
1. James L. Breese's House, 155 Hill Street in Southampton
James L. Breese was a well-known photographer and Wall Street stockbroker. In 1897, he purchased a 30-acre property in the Hamptons. This property featured a small cottage that was first built in 1858. Once Breese took ownership of the lot, he worked with Stanford White of the McKim, Mead, and White architectural firm to add on a two-story home with a 70-foot-long music room. You can see beautifully carved mahogany walls inside the house, along with a hand-painted ceiling. Rumor has it that this was White's last project before his murder in 1906. Breech sold the home in 1926,
and the property
now holds five condo units and 24 townhouses in total.
2. William Corwith's House, 2368 Main Street in Bridgehampton

This home was first built in 1825 and remained in William Corwith's family until it was donated to the Hampton Library in 1960. In 1972, the Bridgehampton Historical Society purchased the home and set up its headquarters there. The home is now open to the public, and anyone can stop by to view the society's collection of exhibits and historical tiles. You can visit the house on any weekday between 9 a.m. and 3 p.m.
3. Grey Gardens, Three West End Road in East Hampton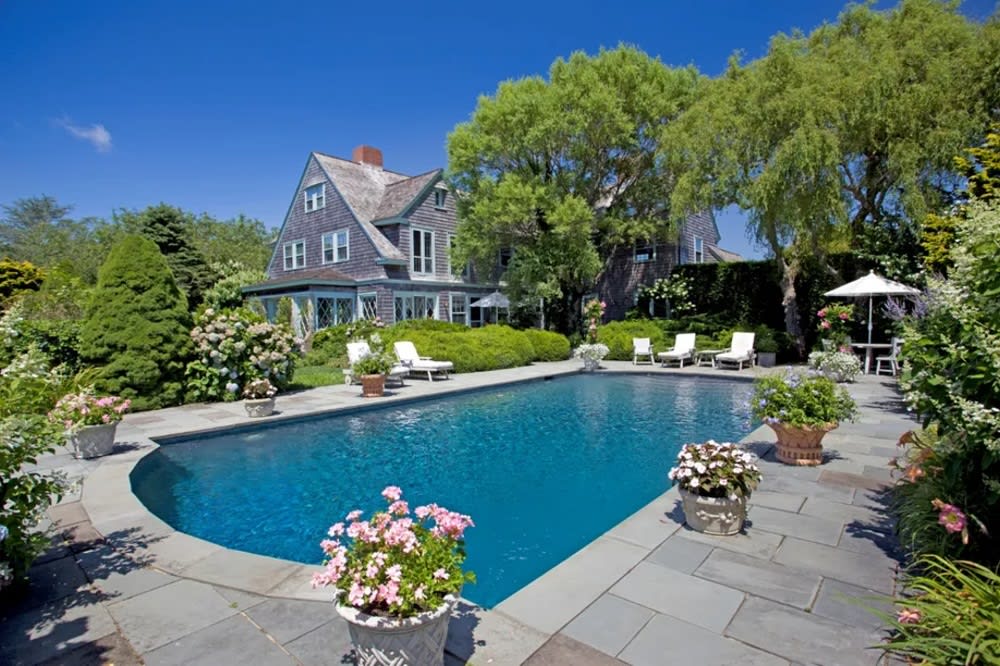 Ben Bradlee and Sally Quinn moved to the East Hamptons in 1979. They bought the Grey Gardens home for $220,000 and proceeded to begin the long process of renovating the 28-room mansion. The house was first built in 1897 but had sat vacant for the past several years.
It went on to sell
for nearly $15.5 million in 2017. Even though the home didn't command its initial asking price of $20 million, this still stands as a testament to the hard work put in by the Quinns to make the home livable.
4. Thomas and Mary Nimmo Moran Studio, 229 Main Street in East Hampton

Thomas Moran is well-known for his beautiful landscapes portraying the American West. His wife Mary was the first woman to be elected to the Royal Society of Painter-Etchers in London. Together they set up a studio in this beautiful East Hampton home. They built this home together in 1884 and lived there until their deaths. The East Hampton Historical Society currently owns the home. In 2018, they restored the interior spaces and opened up the home for public tours. The featured work on display is an 1825 Greek Revival mantlepiece that Thomas worked to salvage to display in the home.
5. Mulford Farmstead, 10 James Lane in East Hampton

This historic home dates all the way back to 1680 and is considered one of the nation's most critical English-style farmsteads to remain intact until this day. It was first built for the New York Royal Province Government. Its second owner was Samuel Mulford, who owned the home in the early 1700s and added a barn onto the site. There weren't many changes made to either property after the mid-1700s. Today the home is maintained by the East Hampton Historical Society, which uses the space like a museum. Public tours are offered regularly. Private tours are available by appointment and must be scheduled one week in advance.
6. Pollock-Krasner House, 830 Springs Fireplace Road in East Hampton

Jackson Pollock and Lee Krasner are the second set of husband-and-wife artists on this list to buy a Hamptons home to serve as their art studio. Pollock bought the home for himself in 1945. The barn was once used to store fishing gear, but he converted the space into an art studio for himself. Krasner created her art in the cottage bedroom until Pollock passed away in 1956. At this point, she took over the barn for herself. Krasner split her time between New York City and her East Hampton home until her own death in 1984. The home eventually became the property of the Stony Brook Foundation, which has since opened up the home for public tours. Guests will still see many of the couple's possessions, including their paint supplies and jazz records, on display in the home.
Hoping to move to the Hamptons? Work with Christopher Covert
Christopher Covert
specializes in Sag Harbor luxury homes. His extensive knowledge of the local market and his many years of experience buying and selling homes set him apart as one of the top Bridgehampton real estate agents. He would love to partner with you as you search for homes for sale in the area. He will work hard to ensure you get the best deal possible on your upcoming transaction.
*Header photo courtesy of Easthampton Historical Society